I haven't done a post for the Bead Journal Project since way back in January, but that doesn't mean I haven't been working on pieces to complete my series of Hoarded Treasures. So instead of pulling out months of pieces to show, I'll jump in at June 2014 with these two necklaces I completed with cameos I found while looking for clasp to complete my Battle of the Beadsmith piece.
I had someone at work tell me that I must have been in a "blue" mood since I didn't make it to round two of the BOTB14. Not really. I just found these two pieces in a cigar box filled with cameos I'd bought from who know whom who knows when. I might have gotten these from eBay, or from a bead store, or they might have been gifts from someone. I just can't remember. But on the day I found them it was rainy outside and possibly that is what triggered my Muse to pull them out of the box and take them upstairs to put on my Bead tray. I also tried crystal chain as a component. It was tricky as I had to actually cut the chain and on one of the necklace I was a tad bit short, but I think I made it work out. I also used a few of the wooden rondelles I'd gotten from Byantium all those years back. I've never been able to find these any place else and I do indeed hoard them all. The light blue pieces of glass I got at 1Stop Bead Shop during a trunk sale. They'd brought them back from the latest Bead and Button Show. The Rivoli, I found also in a box of items. And the silver beads were left overs from the class I took from Amy Katz.
I have to say that I really am not a fan of blue. I rarely work with blue. I don't know why as it is a very popular color, but not actually one of my favorite colors. My Father loved blue. My Mother loves blue. And when I use to teach at Byzantium, I'd always make more blue kits than any other color as most people like the color blue. I wondered what the color blue says about a person's personality and about their experiences. I did a little search and came across a website about color psychology. Interesting ideas about the color blue. So in essences using the color blue doesn't mean you actually are blue in spirit. It has so many more meanings that are positive and reaffirming.
http://www.empower-yourself-with-color-psychology.com
The Color Blue
The color blue is the color of trust and responsibility
This color is one of trust, honesty and loyalty. It is sincere, reserved and quiet, and doesn't like to make a fuss or draw attention. It hates confrontation, and likes to do things in its own way.
From a color psychology perspective, blue is reliable and responsible. This color exhibits an inner security and confidence. You can rely on it to take control and do the right thing in difficult times. It has a need for order and direction in its life, including its living and work spaces.
This is a color that seeks peace and tranquility above everything else, promoting both physical and mental relaxation. It reduces stress, creating a sense of calmness, relaxation and order - we certainly feel a sense of calm if we lie on our backs and look into a bright blue cloudless sky. It slows the metabolism. The paler the blue the more freedom we feel.
In the meaning of colors, blue relates to one-to-one communication, especially communication using the voice - speaking the truth through verbal self-expression - it is the teacher, the public speaker.
The color blue is idealistic, enhancing self-expression and our ability to communicate our needs and wants. It inspires higher ideals.
Blue's wisdom comes from its higher level of intelligence, a spiritual perspective.
Blue is the color of the spirit, devotion and religious study. It enhances contemplation and prayer. On the other hand, blue's devotion can be to any cause or concept it believes in, including devotion to family or work.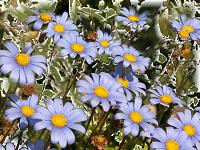 Blue is the helper, the rescuer, the friend in need. It's success is defined by the quality and quantity of its relationships. It is a giver, not a taker. It likes to build strong trusting relationships and becomes deeply hurt if that trust is betrayed.
Blue is conservative and predictable, a safe and non-threatening color, and the most universally liked color of all, probably because it is safe and non-threatening. At the same time blue is persistent and determined to succeed in whichever endeavors it pursues.
Change is difficult for blue. It is inflexible and when faced with a new or different idea, it considers it, analyzes it, thinks it over slowly and then tries to make it fit its own acceptable version of reality.
Blue is nostalgic. It is a color that lives in the past, relating everything in the present and the future to experiences in the past.